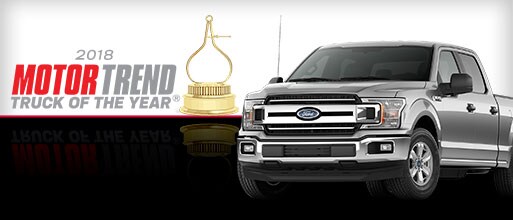 The 2018 F-150 builds upon a formula that has made Ford the best-selling truck-maker in America for more than 40 years by adding more style, more technology, and of course, more power and capability. For these reasons, the new Ford F-150 was named the 2018 Motor Trend Truck of the Year, marking the fifth year that the F-150 has earned Motor Trend's highest honor.
"This year's competition was fierce, but the vote was unanimous," said Ed Loh, Motor Trend editor in chief. "The newly redesigned 2018 F-150 exceeded our expectations in every category - powertrain, performance, technology and overall execution."
The competition took into account everything that buyers look for in a pickup truck, including towing capability, cutting-edge technology, and the feeling you get behind the wheel. The F-150 was pitted against the Chevrolet Colorado ZR2 and GMC Sierra Denali 3500 HD, and according to road test editor Chris Walton, the race wasn't even very close.
Motor Trend tested four F-150s: the 2018 F-150 XL with Ford's all-new 3.3-liter V6 engine, F-150 Lariat with the all-new 2.7-liter EcoBoost®, F-150 Platinum with the enhanced 5.0-liter V8, and the incredible F-150 Raptor performance truck. This wide band of what Ford has to offer more than impressed judges with everything from fuel economy and towing to interior luxury and off-road prowess.
While the experts' opinions matter, there's nothing quite like feeling that potential of the 2018 Ford F-150 at your own fingertips. To experience what the F-150 has to offer, stop by Robbie Roberson Ford for a test drive.