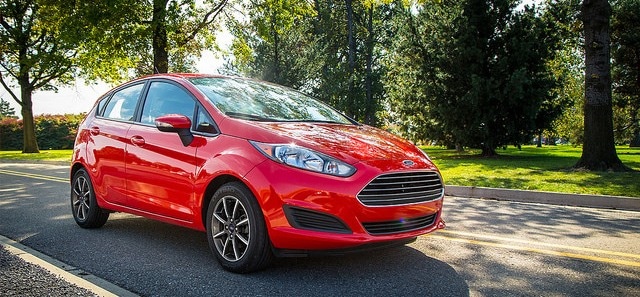 Ford's lineup of family cars has never been better! With seating for the whole family and plenty of options to choose from, you can find the perfect car to fit your needs at an affordable price. Created for families, each of these cars packs a long list of standard safety features so you can focus on the road.
The 2016 Ford Fiesta starts at just over $14,000. Equipped with responsive handling and smart connectivity via SYNC 3, you'll be able to hit the road and stay connected. Throw in excellent fuel economy and a Reverse Sensing System, and you're covered no matter what direction you're going. Available in a four-door sedan or five-door hatchback, there's room for everyone!
The next step up in the lineup is the 2016 Ford Focus with a starting price of just under $17,000. Available as a four-door sedan or five-door hatchback, features like active park assist make this car one of the best on the road. Even better, fantastic fuel economy (26 city/36 hwy mpg), a rearview camera, and MyKey come standard! Take the whole family along for the ride. With plenty of room inside, packing is a breeze.
If you're looking for a mid-size sedan, the 2016 Ford Fusion is the car for you! Available at just over $21,000, the Fusion is a steal. With seating for up to five, you can bring the kids along for the ride and not hear a single complaint about legroom. With fuel economy running in at 22 city/34 hwy mpg for the standard model and 44 city/41 hwy in the hybrid, you can't make a wrong choice!
Closing out the Ford family car lineup is the full-size Taurus sedan. Boasting a price tag under $26,000 and 19 city/29 hwy mpg, breaking the bank is the least of your concerns. With seating for five and technology that will blow you away, the Ford Taurus is the car for families that love the road!