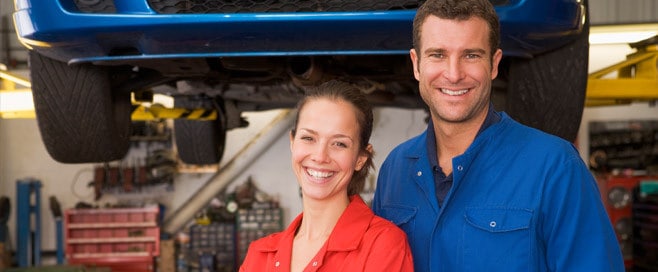 We know that your vehicle means a lot to you. That's why we've put together a few frequently asked questions, to help you get the answers you deserve to common questions regarding vehicle service. If we you don't find your answer here, feel free to give us a call!
Is synthetic oil better than conventional oil?
When synthetic oil first came to market, it was not superior to conventional oil. Over time, the formula has improved, and nowadays synthetic oil often beats the conventional variety, at least in terms of price vs. longevity. There's also evidence that synthetic oil does a better job.
What's a healthy oil change interval?
Conventional oil has improved considerably over the years, as has engine technology. The result is an interval that looks more like 5,000 to 10,000 miles (rather than the old 3,000 miles). Your best bet is to check your owner's manual. It will contain a manufacturer-recommended oil change interval.
Does tire rotation extend the life of my tires?
Tire rotation is the best way to extend the life of your tires. A good interval is somewhere around 7,500 miles. It is possible to rotate your tires at home if you have the appropriate tools, but a lot of people prefer to take their vehicle to a specialist for tire rotation, as they can get an alignment as well.
My brakes are squealing. Should I be worried?
Squealing brakes are definitely an issue that needs to be addressed. Oftentimes, it only means that you need new pads, but it could be indicative of a worse problem. Your best bet is to see a service specialist.
I just checked my oil. Does the color matter?
A lot of people get concerned when they see that their oil is jet black. This is not an issue. Black oil is normal. On the other hand, milky brown oil could indicate a blown gasket, and that is a very serious issue.
Does the check engine light really mean anything?
Absolutely! You should never ignore your check engine light. However, it can come on if you've failed to properly screw in your gas cap, so check that first. If that fails to fix the problem, you could have a potential repair issue or a scheduled maintenance task could be coming up. Either way, see a service professional at Robbie Roberson Ford in Waycross, GA!